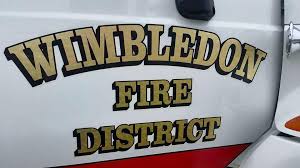 WIMBLEDON, N.D. (NewsDakota.com) – A man was rescued by firefighters after he was partially sucked into a septic tank that collapsed in front of a rural home south of Wimbledon on Wednesday, April 22nd.
Fire Chief Mark McClean said the collapse of the septic tank happened as a company was attempting to pump the tank out. The cause of the collapse is under investigation.
Assistant Fire Chief Chad Bakken said the man in his 60's, was buried slightly above his knees for more than an hour before firefighters were able to pull him out safely. He said the man was transported to the hospital in Valley City for treatment.
Wimbledon Fire District firefighters were assisted by the Valley City Rural Fire District firefighters along with Barnes County Sheriff's deputies.