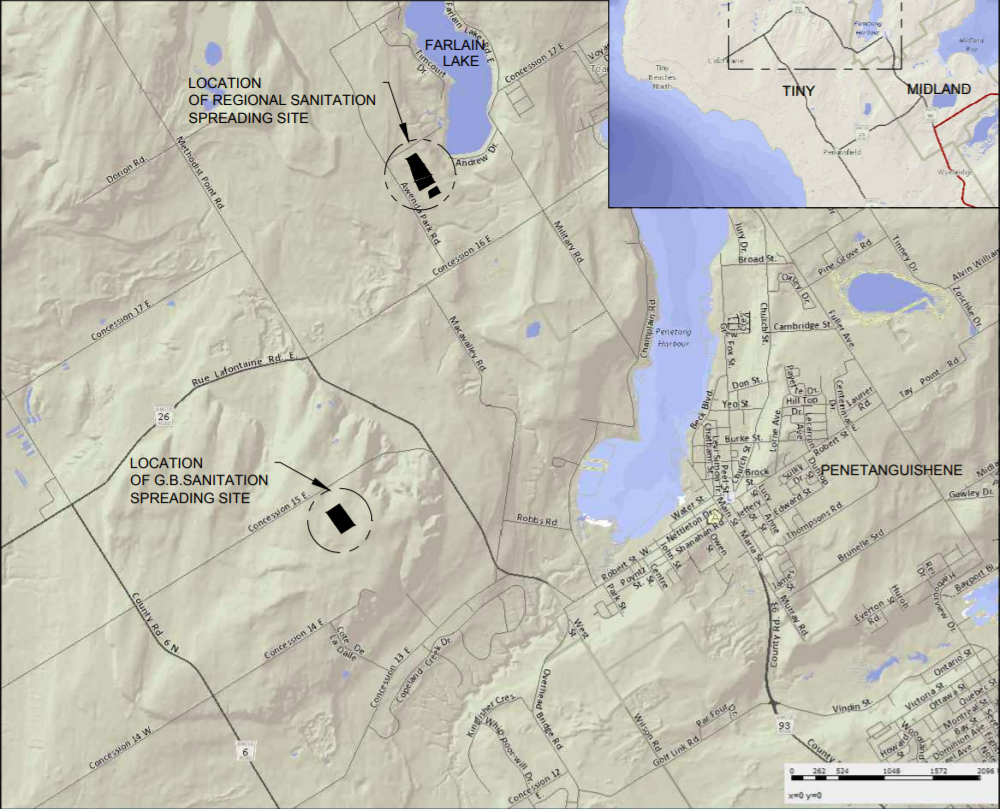 Fran Sullivan thinks she is at heightened risk to get COVID-19.
The Tiny Township resident, who lives across from a septage dumping field on Concession 15 East, is concerned that the virus might be becoming airborne from the faecal waste that is being left in the provincially designated location in her neighbourhood.
"The pathogen is flying around in the air," said Sullivan. "I can smell it (the waste). The virus can be airborne. They're just dumping it out on the field. Holding tanks don't go through a septic tank, it's just raw sewage."
She said some area companies have been dumping sewage on the property for a number of years.
"And the township hasn't done anything about it," Sullivan said, noting she asked to address council about the issue a couple years ago, but was turned down.
"The people who run for election make all these promises about stopping it and it usually gets shelved. "I don't know where we are now. I don't think we're anywhere.
If it were regular times, she said she wouldn't care as much, "but everybody is so concerned about this coronavirus, it is in your poop and your urine."
Dr. Charles Gardner, Medical Officer of Health, Simcoe Muskoka District Health Unit provided an explanation to the concern in his daily briefing.
"We do know from research that the virus is detectable in faeces of individuals who have been infected," he said. "There has not, however, been evidence demonstrating that it's transmitted that way or that people have actually become infected because of that route of transmission. In theory, it's possible, in practice, they haven't found it to date."
Gardner added that if measures are taken to treat the sewage it will allow for the pathogen to be reduced over time.
"We do know this virus, on surfaces can last up to 72 hours, but not beyond that," he said. "So treating the sewage to allow it to be used should be a measure of comfort and assurance."
But Sullivan offers a solution.
"I'd like them to stop while this is going on," she said. "They can take it to a sewage treatment plant. They're charging enough money."
But that decision is not up to the municipality, according to Tiny Deputy Mayor Steffen Walma.
"The spreading of septage is not regulated by the township," he said. "It's provincially regulated. We have no authority over the site planning or any of the planning aspects that are associated with it. We have been advocating with the province for numerous years on the deregulation of septage spreading."
Gary Wheeler, spokesman for the Ministry of Environment, Conservation, and Parks, said in an email that the ministry is assessing available scientific and technical information relating to COVID-19 and the land application of hauled sewage materials.
"The potential risk of transmission can be mitigated by operators adhering to the terms and conditions of a ministry environmental compliance approval related to applying hauled sewage to land," he wrote.
The ministry considers local site conditions when issuing an environmental compliance approval for a hauled sewage site to ensure protection of human health and the environment, Wheeler added.
"Ministry conditions can include minimum set-back distances along with limits on how much waste can be applied and how/when it can be applied," he wrote. "Potential risk can also be mitigated by operators taking appropriate precautions to minimize exposure (e.g., wearing personal protective equipment)."
On its website, Health Canada noted: "The risk of catching COVID-19 from feces of an infected person appears to be low. While initial investigations suggest the virus may be present in feces in some cases, spread through this route is not a considerable driver of this outbreak."
The Centres for Disease Control and Prevention in the USA, talks about the issue in a similar fashion: "The virus that causes COVID-19 has been found in the feces of some patients diagnosed with COVID-19. However, it is unclear whether the virus found in feces may be capable of causing COVID-19. There has not been any confirmed report of the virus spreading from feces to a person."