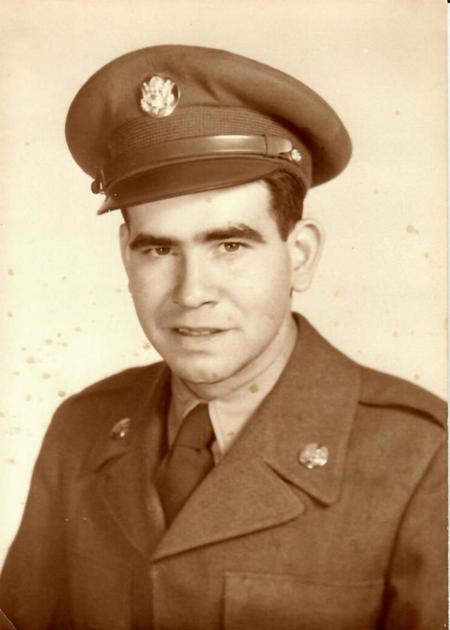 CONSTABLEVILLE – Raymond W. "Jack" Berrus, 88, died Tuesday evening, March 31, 2020 at St. Elizabeth's Hospital, Utica.
There will be no calling hours or funeral service. A graveside service with Military Honors will be held later in the spring at Turin Cemetery. In lieu of flowers, contributions may be made to Lewis County Search and Rescue 7782 W. State Street, Lowville, NY 13367. Arrangements are with Iseneker Funeral Home, Inc. 5702 Waters Road, Lowville, NY 13367.
Jack is survived by his beloved wife of nearly 50 years, Rita; his adopted children; Robert Niblett Jr.; Nancy and Doug Woolery of Tulsa, OK; his son-in-law, Brian J. Ripp of Port Leyden; five grandchildren; 11 great-grandchildren; his siblings and their spouses, Donald H. and Barbara Berrus of Lowville, Rose E. Hanno, of Lowville, Pearl E. Peebles of Denmark, step-brothers and their wives, Harold, Jr. and Joan Jackson of Denmark, Donald and Sally Jackson of Lowville, a step-sister and her husband, Muriel and Robert Lee of New Bremen, 2 step-sisters-in-law, Susan Jackson of Lowville, and Donna Jackson of New Bremen and many nieces, nephews and cousins.
He is predeceased by his first wife, Amy Berrus; and his three children, Stephen Berrus who died in infancy; Robert Berrus, who died at age 9; and Deborah A. Ripp; brothers, William G. Berrus, Clarence E. Berrus and Richard E. Berrus; a sister, Shirley Berrus, step brothers, John Jackson, and William Jackson.
Jack was born on March 13, 1932 in the Town of Lowville, NY, a son of the late, Clarence E. Berrus and Evelyn S. Stoffel Berrus Jackson. He attended country school on Tug Hill and Lowville Academy. He joined the Army in 1952 and served until his Honorable Discharge in 1954. He married Amy Carpenter in 1955. She passed away in 1969. He worked for Ethan Allen, Boonville and owned and operated two dairy farms on Mohawk Hill. On May 23, 1970, he married Rita I Jarvis Niblett on Mohawk Hill with Justice Harold Hayes officiating and adopted Rita's three children. He later drove bus for South Lewis Central School for 10 years. He started Berrus Septic Service, owning and operating until he was 80 years old. Keeping busy, he cut and sold firewood for many years. He enjoyed his work, tinkering in his garage and his life as a farmer. Jack's biggest smiles came from spending time with his grandchildren and great-grandchildren.
Condolences may be made online at www.isenekerfuneralhome.com.