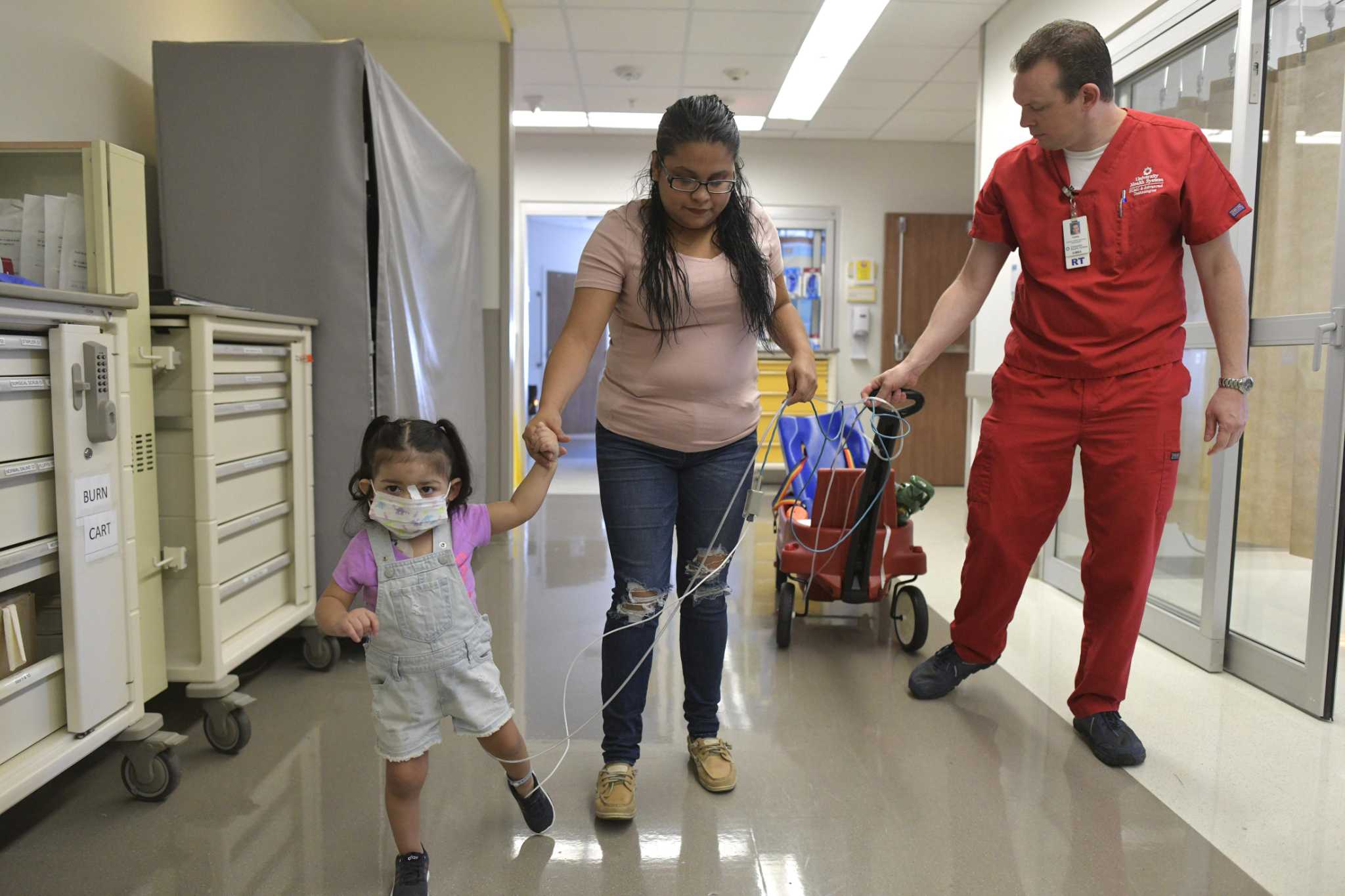 It was early evening, and Lilian Garcia's children were running around at a birthday party hosted at an aunt's home in Harlingen.
After briefly stepping away from the festivities, Garcia was told that her 18-month-old daughter, Addison Gonzalez, had toddled toward the back of the house with her brother.
Go check on her, her aunt interjected. Unbeknownst to her guests, the septic tank had been left open.
By the time Garcia sprinted to the backyard, it was too late.
Small children across the country have died after falling into septic tanks, which contain high levels of hydrogen sulfide, a toxic gas that deprives the body of oxygen. From the moment Addison was pulled from the tank Aug. 1, it was a race to save her life.
Over the next two months, doctors in Harlingen and San Antonio would work together to do just that.
In the course of her treatment, they would deploy a type of life support that has been around for decades but has increasingly been used to treat a wide range of critically ill patients, including those sickened by vaping, viral infections, severe strains of the flu and even drugs ingested during suicide attempts.
On ExpressNews.com: 'These are 20-year-olds': Vaping-related illnesses surface at San Antonio hospitals
At Valley Baptist Medical Center in Harlingen, Addison was put on a ventilator, but it quickly became apparent that more drastic measures were necessary.
Two days later, she was transferred by helicopter to University Hospital, which staffs a team of specialists dedicated to extracorporeal membrane oxygenation, or ECMO, which mechanically replaces the function of the lungs and heart.
When Addison arrived in San Antonio, fluid had collected in the air sacs of her lungs. Doctors also were concerned about her exposure to gases and fecal matter in the septic tank.
Even after she was transferred to a higher-level ventilator, she still struggled to get enough oxygen.
As they gathered information on how to help her, University doctors searched for examples of septic tank-related injuries. Most of the cases they found had ended in fatalities. When they checked an international database that pools information from hundreds of ECMO centers, they did not find a single case of hydrogen sulfide exposure.
The hospital's ECMO department is called upon when a patient has a greater risk of dying than surviving, said Dr. Veronica Armijo-Garcia, medical director of University's ECMO program and one of Addison's doctors. In those cases, some patients may benefit from ECMO, which allows their vital organs to rest as their bodies attempt to heal.
To connect patients to the machine, doctors place plastic tubes in large veins and arteries, such as those in the neck and groin. The machine acts as an artificial lung, filtering carbon dioxide from the blood and adding oxygen. It also has a pump that can return the blood to the body at the same rate as the heart, replacing that organ's function, too.
On ExpressNews.com: San Antonio's University Hospital uses liver perfusion machine in study to improve transplants
The procedure is not without risk. Patients who are put on ECMO can develop serious complications, including bleeding, blood clots, infection and kidney damage from a lack of adequate blood flow.
At the moment when Addison was hooked up to the machine, her lungs were so damaged they "completely collapsed," with no air entering them at all, said Dr. Daniel Gebhard, a pediatric critical care physician who also treated her.
She initially was given support for just her lungs, but within about 12 hours her heart began to fail, so she was transitioned to the machine's combined heart and lung support.
Addison remained on the ECMO machine for weeks. Seeing her attached to tubes that were carrying out such vital functions was scary, her mother said. At one point, her daughter's body grew so swollen that she looked like a puffer fish.
After 27 days, Addison's heart and lungs improved enough that she was able to be removed from the machine. She spent another 12 days on a ventilator.
Because Addison had spent several minutes in the septic tank, doctors worried about potential brain damage. Those concerns were allayed when she reached for her father as soon as she began to wake up.
University has had a fully equipped ECMO program since 2014. Over the past five years, specialists have recognized the machine can be used to treat many different kinds of patients for long periods of time.
Last year, the program treated 15 patients with ECMO. This year, the team expects to treat 15 to 20 patients with the machine, including six who have undergone the procedure within the past three months.
"It's becoming more common to use the machine sooner so that you can protect the lungs and the heart and get them recovering quicker," said Armijo-Garcia, who also is a pediatric critical care specialist with UT Health San Antonio.
Top hits: Get San Antonio Express-News stories sent directly to your inbox
Months later, as Garcia holds her daughter in her hospital room at University, images of the accident still revisit her often: her son, saying his sister had fallen in a hole; her shoulders, scraped by the tank's narrow opening, which she had been unable to fit through; a slender friend being lowered by her ankles to pull Addison out; her daughter, screaming and crying after being revived.
"To this day, I close my eyes, and I still see it," said Garcia, 24.
But there's much to be grateful for, she added. During Addison's months of recovery, she has felt that God has been by her daughter's side. Hospital staff have noticed the girl's feisty personality returning.
"A lot of people are surprised she survived and is doing so well," she said. "I just feel God gave us another chance with her."
Addison's parents, who practically lived at University during this period, hope she will be released from the hospital in time to celebrate her second birthday on Nov. 20 and Thanksgiving. She is still receiving oxygen, but her doctors expect her to make a full recovery.
Before the accident, Garcia bought her daughter a tiny pair of red cowboy boots. Now, they are perched on the windowsill of Addison's hospital room.
They're a little big, but Garcia hopes her daughter can wear them soon.
Lauren Caruba covers health care and medicine in the San Antonio and Bexar County area. Read her on our free site, mySA.com, and on our subscriber site, ExpressNews.com. | lcaruba@express-news.net | Twitter: @LaurenCaruba